EDIT 11/22: a new contender has entered the ring for the same price (thanks
@James Freeman
!) See the post here with my thoughts on both:
https://thegearforum.com/threads/an...rs-headphones-for-16-read-this.771/post-24903
Hey friends, I have no affiliation to this company or their sellers. Just had to share this with the fine folks here because it's so great it's unbelievable.
Moondrop is a company that makes highly-regarded, extremely-well-tuned in-ear headphones. They have a set of in-ears called Moondrop Chu that are only $16, and I kid you not, they might be the best-sounding headphones or in-ears that I've ever heard. And I'm someone who has used Sennheiser HD600 as my daily drivers for the last 15+ years.
In the AutoEQ headphone database ranking, out of
hundreds
of IEMs, these are ranked #4 for accuracy to the Harman reference curve. The next up on the list is $1000 retail. But frequency response isn't the whole story. These things have the most detailed treble I have EVER heard, without exaggeration, and also incredibly tight and articulated bass. The soundstage is huge and transparent and sounds nothing like in-ear headphones that I've ever heard.
Anyway, I really suggest anyone who needs GOOD in-ears or just some really nice-sounding corded headphones give them a try. Moondrop Chu. Amazon has them, but they can be found from other sellers too.
PS: as with any in-ear, a good seal is critical to good sound and bass response. These come with 3 sizes of high quality "spring tip" eartips, but if you have large ears like me, you might not get a good enough seal with them, as they don't include XL size. I use SpinFit CP145 Large eartips instead, which seal great in my ears and give solid bass response. The right size eartip will create a good seal without discomfort.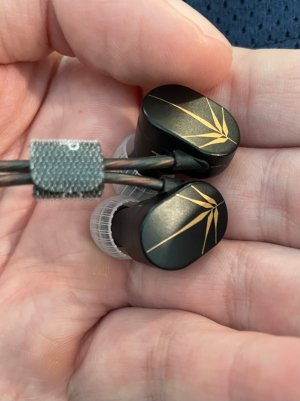 Last edited: